Good research results for complementary therapies are not always plentiful but this data is significant.
A recent study was conducted at a medical facility in the United Kingdom on the treatment of Caesarean Section scars. It is my pleasure to share this information with you not only because it is potentially ground-breaking work but also this simple but profound application could have a meaningful impact on your clinical work too.

"If the scar is…untreated, it may be the cause of therapeutic failure and recurrence."

Simply reading this statement by researchers Karel Lewit MD and Sarka Olsanka in their 2002 paper entitled 'Clinical Importance of Active Scars: Abnormal Scars as a Cause of Myofascial Pain', will tell you that the treatment of scar tissue is vital for successful therapeutic outcomes.

In other words, no matter what physical therapy intervention is used, untreated scars may thwart our best efforts to remedy related pain and restrictions in mobility. For me that single sentence sums up why, for the past twelve years or more, I have considered the treatment of scar tissue to be an integral part of the therapeutic treatment session.

In those years I developed and refined a treatment technique that has recently undergone a preliminary research trial in the United Kingdom.

The research project was conducted at The Newcastle Clinic, Newcastle, UK on June 15th, 2019 with Consultant Radiologist Dr Peddada Raju.

A General Electric (GE) Soniq S8 ultrasound scanner was used to conduct the test on three test subjects with C-section scars.

Each subject was pre-scanned and images recorded including:

• Size and depth of scar tissue was recorded
• The amount of vascularity both surrounding and within the scar was also imaged.

Scar tissue release work (called MSTR) was then applied for a total of 15 minutes per subject, as a single treatment. Each subject then underwent a post-treatment ultrasound scan conducted by Dr Raju.

All three subjects were shown to have decreased scar tissue in the post treatment scan. One example of improvement was of a scar that was initially measured at 31.5mm pre-treatment. The scar was re-measured at just 18.1mm post treatment.

Another example was that of a longitudinal scar reducing in size from 22.7mm pre-treatment to just 10.4mm post-treatment.

In two of the three cases an increase in vascularity was noted, not only in the surrounding tissue but also actually through the scar. Interestingly it should be noted that NO vascularity was present in the pre-scan of the same area. This confirms what has always been stated: MSTR helps open the densely bound collagen fibres that make up scar tissue to allow increased blood flow into the area once again.

In the research study:

Total length of all scars measured pre-treatment = 157.89

Total length of all scars measured post-treatment = 104.92mm

This represents a total reduction in all scar tissue measured of 33.55%
Pre and post treatment scans of lower abdominal (Caesarean Section) scars:
Subject #1: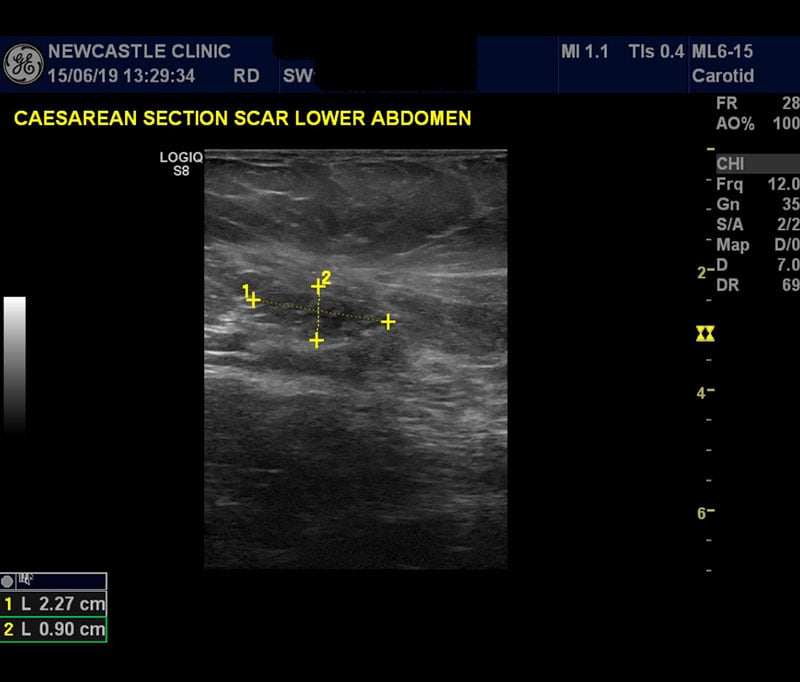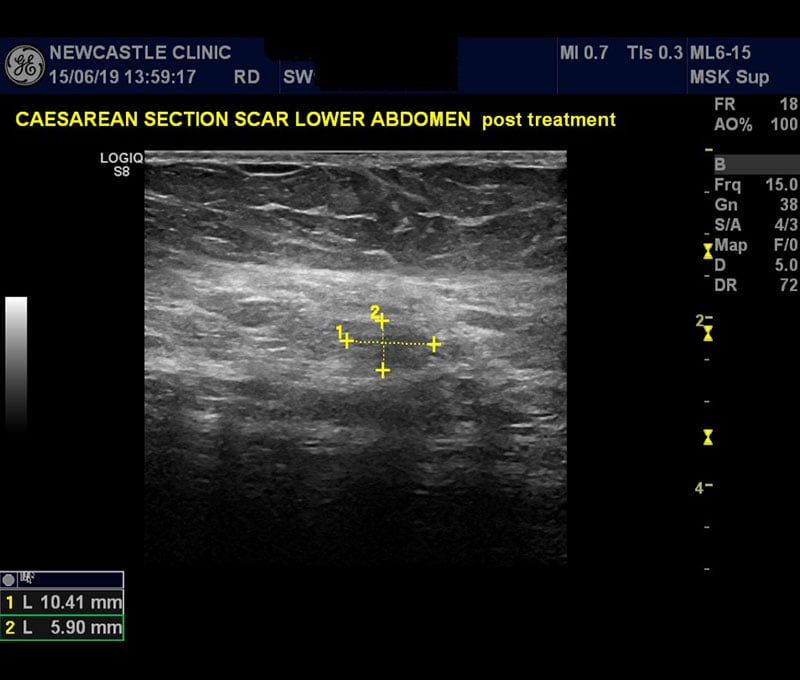 Subject #2: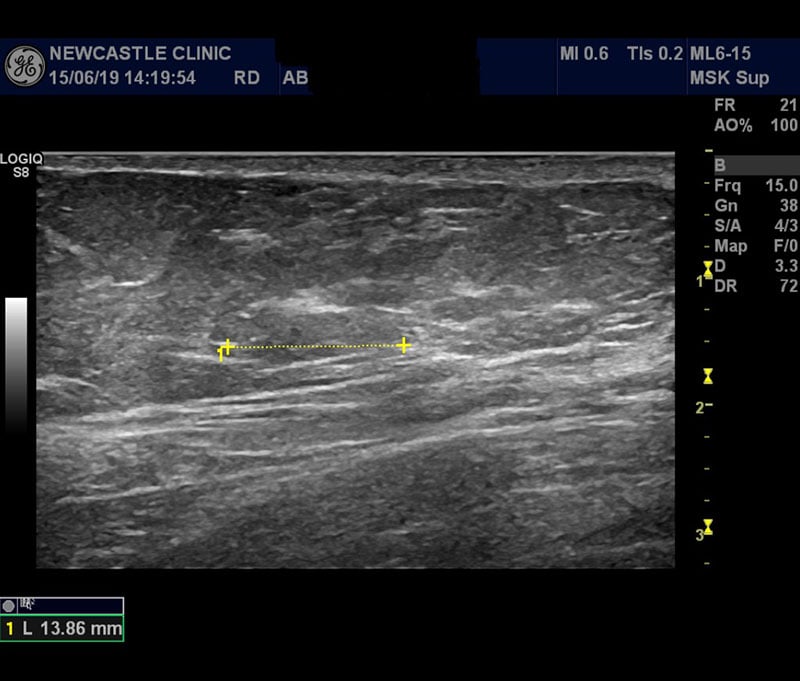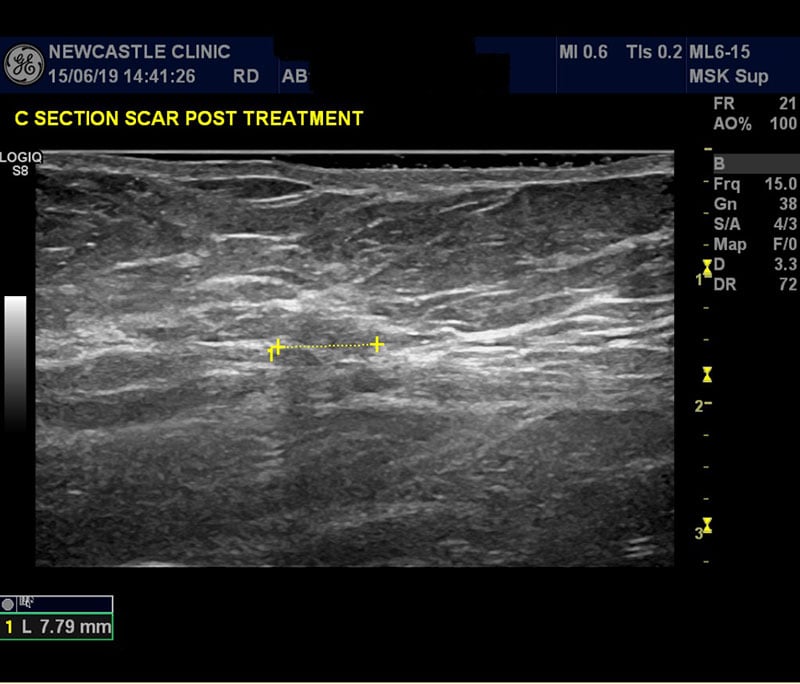 Conclusion

After a single 15 minute MSTR treatment per subject and an immediate rescan of the area there was an observable reduction in the amount of scar tissue measured on the three C-section scars.

A reduction of scar tissue measured at 33.55% in just one 15 minute treatment is an outstanding and significant improvement worthy of further research.

Subject to funding we plan to conduct a further study using thirty C-section subjects later in 2019.
You can read more about the MSTR Research Project here:
https://www.mcloughlin-scar-release.com/research/

Alastair McLoughlin
www.McLoughlin-Scar-Release.com