We've recently relaunched the IICT Directory, new and improved. To learn more about how it's going to work, read on!
The new Directory lives at the same address as the original directory - http://iictdirectory.com. If you're one of our members that had a listing on the original Directory, then you are entitled to a listing on the new directory. To claim your listing, simply head to the Members Area and click 'Add Listing'.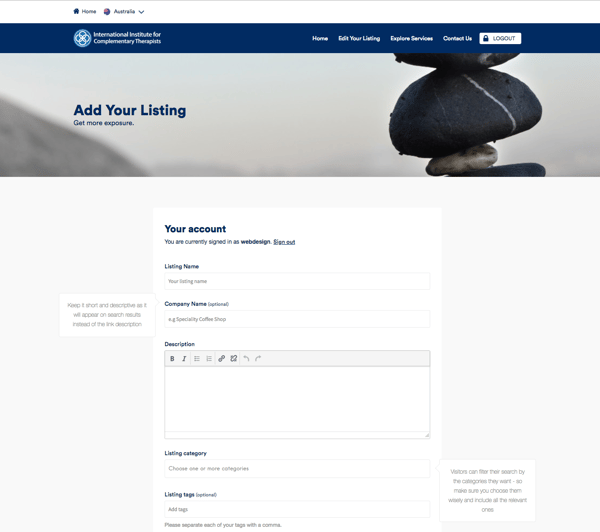 Once you're on the 'Add Listing' page, simply fill out all of the relevant fields to populate your listing. If your practice operates in person then be sure to put the address in as the location, so that your practice appears on the map and can be found by interested potential clients. If you prefer to practice online, without the need for face-to-face contact, select 'Do you practice your therapy online (and therefore have no fixed address)?' and your listing will show up when people search for online practitioners.
The email address you enter in this form will be what is contact when a user clicks the 'Contact' button on the Listing, so we recommend using a business email where possible - it does not need to be the same as the email used for your IICT Membership.
Once you have completed your listing, hit 'Preview' at the bottom of the form to see how your listing will look, including how images will display. If you don't want to make any further changes, hit 'Submit' in the bottom right of the page, to finalise your new listing.

Once your listing is live, hit the link to access your Listing, or search for it using the Search bar on the home page. If you'd like to apply further edits to your listing, you can do so by hitting 'Edit Your Listing' in the navigation at the top, however this option is only available to members who have logged in.
When searching for Listings, the search bar will search for words in Listing Names, so be sure to be descriptive in the name of your Listing. Users can also search by Category, so categorise your listing in one of our provided sub-categories to have it show up for people looking for a category of therapy.
If you have any questions about the functionality of the Directory, or about your listing, you can reach out to our support team via the contact form on the Contact Us page.
Good luck, and we hope you enjoy your listing on the brand new IICT Directory! Be sure to keep an eye out, as we will continue to optimise and work with our Directory to turn it into an amazing resource that brings both value and success to our Members in the future.